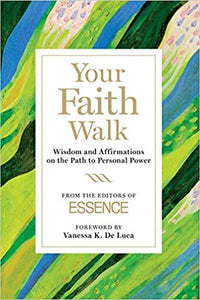 Your Faith Walk: Wisdom & Affirmations on the Path to Personal Power
Publisher: Time Home Entertainment, 2015
HB:176pp
In celebration of the 45th anniversary of the world's leading brand for Black women, ESSENCE's award-winning editorial team presents Your Faith Walk: Wisdom and Affirmations on the Path to Personal Power. This inspiring collection represents the best reporting that has been published in ESSENCE over the past four decades. Collectively, Your Faith Walk reflects our reality and captures Black women's emotional, spiritual and political evolution. 
Divided into four sections - Love, Success, Purpose and Legacy - this special keepsake presents selections written or stated by wisdom keepers like Susan L. Taylor, Audre Lord, Alice Walker, Dr. Gwendolyn Goldsby Grant, Iyanla Vanzant and many other notable writers, entertainers, activists, leaders and readers just like you. 
The jewels presented here will not only challenge you to think reflect and take positive action, they are destined to become the affirmations that you will post on your refrigerator, record in your journal for deeper reflection, or share on social media with your followers and friends. 
May Your Faith Walk become an indispensable companion that will illuminate your path as you travel from the present to a future of unlimited possibilities.