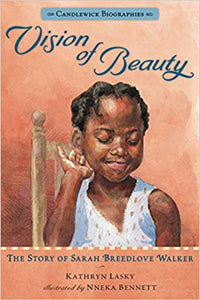 Vision of Beauty: The Story of Sarah Breedlove Walker by Kathryn Lasky
Candlewick Press 2012
pb:45pp
"I am a woman who came from the cotton fields of the South. I was promoted from the fields to the washtubs. I promoted myself into the business of manufacturing hair goods. I have built my own factory on 
my own ground."

Born December 23, 1867, Sarah Breedlove Walker was the first free-born child of sharecroppers in Delta, Louisiana. Life was hard, but slavery had ended, and the Breedlove family was free - and if you were free, you could dream.

And dream she did. VISION OF BEAUTY follows Sarah Breedlove Walker's rise from a bleak world of poverty and discrimination to unprecedented success as a businesswoman and philanthropist. Through tenacity and faith, she discovered a cure for her own hair loss, then began marketing her original products through the Mme. C. J. Walker Manufacturing Company. Well known as a woman of economic independence, Madam Walker offered a vision of dignity and freedom for her people and a powerful role model for women and girls of all races.
Back matter includes an epilogue, an illustrator's note, sources, and an index.