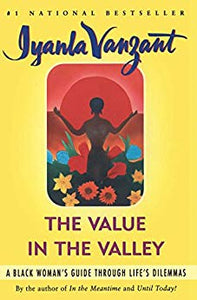 The Value in the Valley by Iyanla Vanzant
Published by Simon and schuster 2001
pb:330pp
So you've fallen and think you can't get up! 
Is it the job you hate but need in order to pay the rent? Is it that relationship that you gave your all to only to end up with a broken heart...again? Perhaps it's your children, a family member or a lifelong friend doing you in, dragging you down, pushing you to the brink. If you are an honorary member of the Black Woman's Suffering Society, you have probably been told that it's all your fault. Or that struggling and suffering is your lot in life. Iyanla Vanzant says NO! Life is an Act of Faith and suffering is optional! Those everyday challenges, obstacles, and dilemmas are what Iyanla calls valleys. As bad as they may seem, there is a purpose or, as Iyanla says, "There is so much value in the valley." 
Valley experiences open your eyes to the things you know but have difficulty facing and accepting. Valleys challenge your fears, strengthen your will, correct your misperceptions, and give you valuable insights into yourself, the world, and the people around you. Those dark, bleak, ugly experiences that make you most uncomfortable can help you to grow. 
Valley experiences let you know it is time to do a new thing in a new way. You may grit your teeth and dig in your heels, but, as you will see, that new thing can be daring, exciting, and even fun. If you learn your valley lessons well, you are bound to shake other people up too. Good! You need to display your brilliance and move into your own grace. You've got the power, and your thoughts, deeds, and actions are your ticket. When you muster up the strength to change how you do what you've been doing, you find the way out of the valley. 
As Iyanla says, "Valleys are not one-size-fits-all." In fact, they are custom-designed to teach you how to reach your highest potential -- to be divine, prosperous, and in alignment with your highest and greatest good. 
If you've ever been disappointed, betrayed, rejected, abandoned, or just plain old scared to let go, then you've been or may still be in a valley. Iyanla knows -- she's been there, and on a bad day she's still there, but now she shares with you the way out.