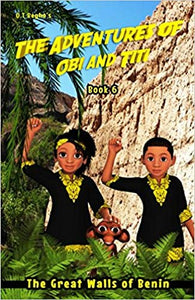 Published by Evolution Media Lab, 2018
PB:122pp
The Adventures of Obi and Titi is a chapter book series that uses a beautiful blend of fact and fiction to take its readers on an untold journey across ancient Africa.
This epic adventure series follows the story of two brave, young children and a very naughty monkey, who set out on an unexpected journey of knowledge, hope and everlasting friendship.
At the end of each book you will find a vocabulary and a list of African facts to support learning and further discussion.
Book #6 - The Adventures of Obi and Titi: The Great Walls of Benin
After the capture of Titi by Ezomo and Obi's brave rescue of Idia, their paths finally crossed once again, in Katunga, the home of Shango.
Unfortunately, their plan to stop Ezomo was going terribly wrong as they watched in horror as Shango's palace came crumbling down, with Ajaka and Joromi still inside it.
Was their chance of saving their beloved Benin kingdom burning in the flames before them, or would hope rise from the smouldering ashes?