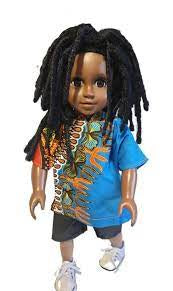 Tafari - Motivational Speaking Boy Doll.
Hi, my name is Tafari. I know many of you know my twin sister Toya, who is the FIRST talking Jamaican Patois doll. I am also from Jamaica but Toya migrated before me and the FIRST motivational male doll. I lived in Jamaica with my grand-parents. Now, I am joining my sister Toya in England to live with my parents.
I am truly excited to finally be re-united with my sister. While Toya tells you about our gorgeous island, I want to motivate kids worldwide to achieve their dreams and not be blocked by their skin colour or their social status. I am using my speech as a positive affirmation for kids worldwide.
Listen to my speech in my video to hear what I have to say…
Blessed Love
Tafari, your roots rocking Zuree Doll 
*Please note that Tafari is wearing a wig cap that is removable to make him more baby-friendly and also for kids with hair loss (cancer, alopecia, etc).
Tafari shirt's colour may vary, therefore, you may not get the colour advertised.
 Tafari stands approx 45 cms high.