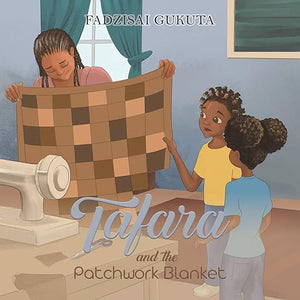 Tafara And The Patchwork Blanket by Fadzisai Gukuta
Published by: Austin Macauley, 2020
PB: 40pp
Tafara lived with her parents and little sister, Tanaka. More importantly, she lived right next door to her grandparents, Gogo and Khulu. She loved going to their house every day after school and especially on Saturday afternoons, after all her lessons were done.
Gogo was always up to something wonderful, like baking, cooking or making decorations. What was so special about her was that she would always let Tafara and Tanaka join in on the fun.
This Saturday, Gogo was doing Tafara's favourite 'Gogo-thing': sewing. She loved the noise of the machine and the amazing pieces that Gogo came up with. On this occasion, her creation was no less glorious than all the others before, but this one had a little extra magic sewn in its seams. It was something that helped her see just why the world was full of beautiful colours...and all the shades in between.