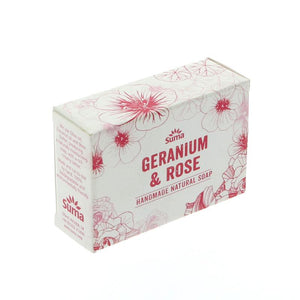 Subtle pink hue with rose petals. A wonderful richly moisturising soap bar with a subtle rose geranium fragrance very much like turkish delight. This soap creates a gentle and relaxing cleansing experience, perfect for looking after dry skin. 

Suma soaps have been carefully hand crafted using a blend of olive oil, coconut oil, and shea butter, using an age-old process which helps retain all of the soap's naturally released glycerine. It's a method which helps produce a wonderfully natural moisturising soap, with a rich creamy lather to help hydrate, sooth, nourish and pamper. Each bar is individually boxed in plastic-free packaging, making them ideal as a little gift.
This product is Vegan.