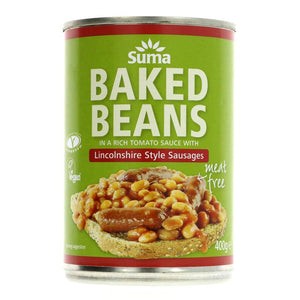 Suma Baked Beans in a rich Tomato Sauce with meat-free Lincolnshire-style Sausages, 400g
Suma's  twist on a classic! Baked beans in a rich tomato sauce with 6 vegan Lincolnshire style mini sausages. Made to a special recipe with herbs and spices. Quick to prepare and very filling. Excellent on toast or jacket potatoes. Registered with the Vegan Society. Approved by the Vegetarian Society.
This product is Vegan.
Ingredients:
Water, haricot beans (47%), vegan sausages (15%) (wheat gluten, rapeseed oil, onion, soya protein, wholemeal wheat rusk, salt, sugar, dried yeast, dried herbs, yeast extract, thickener: methyl cellulose; spice extracts, garlic powder, barley malt extract), tomato puree, modified maize starch, salt, cider vinegar, onion powder, paprika, white pepper, ground nutmeg.