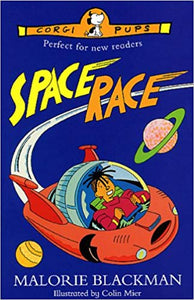 Space Race by Malorie Blackman
Published by Corgi Pups,97
PB:64pp
Five...four...three...two...one. Lift-off!

What can Lizzie do when big-headed Jake challenges her to a race in space? She's GOT to beat him. But Jake has a super-duper, deluxe new spaceship that runs on special fuel...

Zoom to Pluto and back with this super space story from award-winning author, Malorie Blackman.
Cover may be different to the one shown.