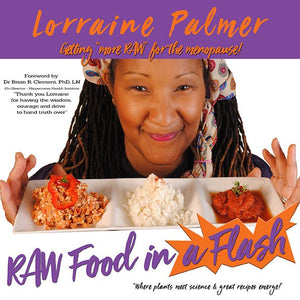 Raw Food In A Flash by Lorraine Palmer
Published, 2017
PB:202pp
My new book is part self care guide and part raw food recipes aimed at women who are peri, post-menopausal and anywhere in between. Having found relief from my own menopause symptoms by eating vegan and raw foods, I now want to share this information with you as it will help you too.
My book is classed as an introduction to the menopause and to eating 'MORE RAW' plant based foods for the woman who has not been acquainted with this way of eating before.
The sections within this book will include my own menopause story, the science behind the menopause, managing the menopause and of course RAW Food recipes that will propel you to RAWDOM! I have also included sections on getting you ready to embrace eating More RAW too. I have not left anything out for you to embrace eating your very best.
The purpose of my book is to inform you about what is going on with your body during the menopausal years and how you can support the symptoms associated with it by eating more food that is in its natural state. I will show you a way to make delicious food that is very nutritious and flavoursome.
There is no excuse for not enjoying food when it is in its RAW state – you just need to be shown how.