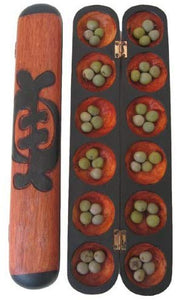 Deep Oware Board Game
A fascinating two-player game suitable for players of all ages. 
If you haven't yet tried Oware you are missing out on a great deal of fun and brain development!
This fantastic game from Ghana - but played throughout the world - is designed for two players and is suitable for children and adults alike. Once you've mastered the rules you can use it to help you to develop maths strategies.
Instructions included.
If you're local to Birmingham why not check our What's On page to find out when our next Oware class will take place.