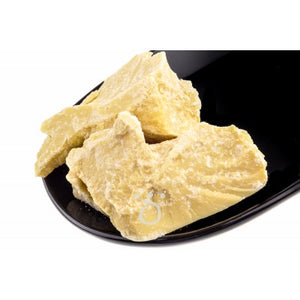 Akoma Organi Cocoa Butter - Food Grade, 
BOTANICAL NAME
Theobroma cacao

EXTRACTION  METHOD
Expeller Pressed 

SUGGESTED USE
Food and Cosmetics

BENEFITS
The cocoa trees of which our butter is made is cultivated in Dominica. It contains about 5 IU of vitamin E per ounce and can be used as an emollient, skin softener and proectant. 
Common uses: 
Our Cocoa Butter may be used in a variety of cosmetic, toiletry and pharmaceutical applications to reduce dryness and improve skin flexibility. 
Food: Try using our cocoa butter to make cakes, smoothies, deserts and ice cream   
Ingredients: 100% Cocoa Butter