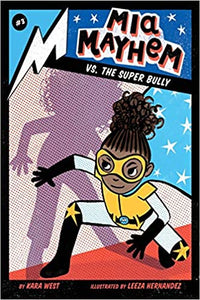 Mia Mayhem vs. the Super Bully (Volume 3) by Kara West
Publisher: Little Simon PB 120pp
Mia and her best friends are up against a major super bully in this third adventure of the Mia Mayhem chapter book series!

When a super annoying villain (who's actually another superhero) arrives at THE PITS and accuses Mia of not belonging, Mia doesn't know what to do. Will she be able to hold her ground when she goes up against the Super Bully?

With easy-to-read language and illustrations on almost every page, the Mia Mayhem chapter books are perfect for emerging readers.