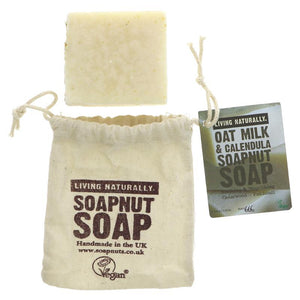 Living Naturally Soapnut Soap
This award-winning soap has been made with sensitive skin in mind. made with gluten-free oat milk, organic calendula, organic oils and a soothing essential oil blend, this soap is perfect for skin that may need a little bit of tlc. + oat milk has been used for centuries on eczema prone skin because of its soothing and anti-inflammatory properties. we hand-blend our own gluten free oat milk so that allergy sufferers can benefit also.+ organic calendula oil is a great gentle antiseptic, also anti-inflammatory and aids in the regeneration of healthy skin.+ organic apricot kernel oil deeply nourishes and is packed full of helpful anti-oxidants. + pure essential oil blend with cedarwood oil which is has great anti-inflammatory properties as well as being great at controlling oil production and fighting germs. and patchouli oil because it's great at healing skin, anti-inflammatory, and helps skin regenerate.
This product is Vegan.