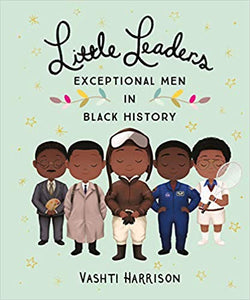 Little Leaders Exceptional Men in Black History by Vashti Harrison
Published by Puffin, 2019
HB:96pp
Meet the little leaders. They're brave. They're exceptional. They changed the world.
Did you know that the father of African cinema was originally a bricklayer?
Or that Vogue's editor-at-large read his first Vogue magazine in his local library?
Learn all about the exceptional black men who broke barriers and fought injustice to realise their dreams and make the world a better place.
With Vashti Harrison's beautiful illustrations and illuminating writing, discover the stories of black men from all walks of life, including:
Doctor Harold Moody
Diplomat Kofi Annan
Activist Paul Stephenson
Architect Sir David Adjaye
Comic book author Dwayne McDuffie
Musician Prince
Your own little leaders will be inspired to take on the world after learning about these incredible men.