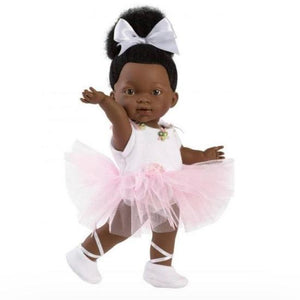 Kayla Ballerina Doll
Every child should see themselves in the products they play with from an early age. 
Kayla Ballerina is a small hard-bodied doll.
Dressed in a pink tutu
Afro hair to style.
Movable arms and legs.
You can make her sit down and wave her arms. 
Clothes are removable and are machine washable.
Size 28 cm
Suitable for ages 3 upwards         
Made in Spain.