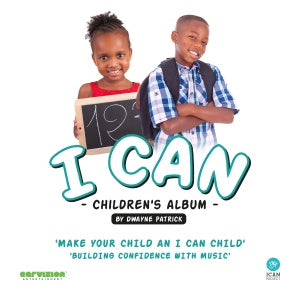 I Can Children's Album
I Can - Children's Album by Dwayne Patrick: 10 Tracks

Make your child an I Can Child - building confidence with music.

Track List:

1. I Can.
2. I'm Beautiful, I'm Talented, I'm a Star.
3. I Can Be Successful.
4. Everybody Makes Mistakes
5. I can Be A
6. I can Theme Song
7. My Destiny
8. I Can Be Successful (Call And Response)
9. I Am, I Can
10. Sleep Song

REVIEWS
 Amanda – :

         I have listened to this album, it has really inspired me as an adult, it is very positive, inspiring and helps to 
         upllift the spirit.
       
         Children will definitely enjoy this as its also full of life and lots of fun.
 
          5 out of 5


Obiang – :
Great album. Inspirational and very catchy. within days we found ourselves repeating the songs and more importantly the children love it.