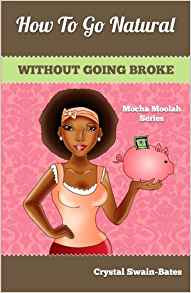 How To Go Natural Without Going Broke by Crystal Swain-Bates
Published by Goldest Karat Publishing, 2013
PB:112pp
~Do you want to go natural but don't think you can afford it?
~Are you a hair product junkie in need of an intervention?
~Could you benefit from learning ways to save money on your natural hair?
If you answered "yes" or "maybe", this book is definitely for you!

Perfect for transitioners, the newly natural, and natural hair pros alike, this easy-to-read guide is packed full of practical advice and money-saving tips to help you go fabulously natural without going broke!

Tips in the book include titles such as: 
Ditch the shower caps
Maintain your drain
Beef up a conditioner
Shop your international grocery stores
Try before you buy
Drugstore cheapies but goodies
Get wiggy with it
Let's get steamy
And many more...