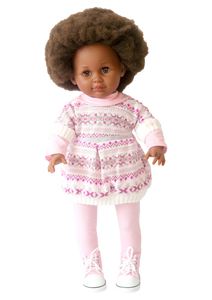 Dionne Natural Hair Doll
Dionne doll is a black girl doll with soft and cuddly body.
She 47cm tall when standing upright
Her Afro hair can be styled
Her arms and legs are movable.
You can make her sit down and wave her arms. 
Her eyes are light brown
You can make her open her eyes when sitting up and closes it when she lays down. 
You can remove her clothes and shoes
She is made in Spain by Poala Reina.  
Size is: 47cm
Suitable for children age 3 years and over.