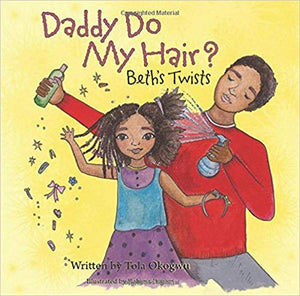 Daddy Do My Hair? Beth's Twists by Tola Okogwu
Published by Simon Schuster Publishing, 2022
PB:36pp
It's Sunday evening and dinner is over. 
Beth is excited and heads to the sofa. 
Daddy is there with a smile and a chair, 
'Daddy', she asks, 'will you please do my hair?' 

Join Daddy and Beth on a wonderful hair adventure in this heart-warming story, which celebrates the unique and special relationship between a father and child. 

The perfect rhyming picture book read for every family, this is a book to be shared time and time again. This is the first book in the 'Daddy Do My Hair?' series.