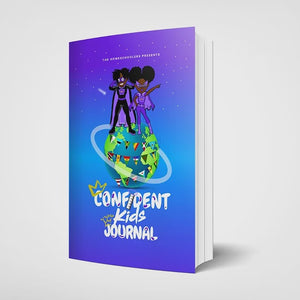 Confident Kids Journal
Confident Kids Journal is a growth mindset, representation journal that encourages Black and Mixed children to have a healthier mind, grow their confidence and most importantly, encourages them to love the skin that they are in.
Designed off the back of the many conversations that Author, Sephuine Morgan was having with several fellow mother's about their young black and mixed children "hating their hair, wanting to be a different skin colour and in some worser cases, children wanting to commit suicide" due to racial encounters with peers or lack of representation in the mainstream media, "children were not feeling as though they were beautiful" says Morgan.
The 164 page Journal takes them on a journey of exploring their creativity, with activities and tasks which promote a healthier way of thinking whilst featuring beautiful art, inspiring quotes from greats, and wonderful encouraging stories throughout.
Children will be occupied whilst working through chapters involving confidence, positive affirmations and self-love, entrepreneurship, creative writing, and many more. 
Not only that, children will be encouraged to join a weekly journal club that will take place over zoom, where they share their weekly journalling, make friends and keep one another accountable, ensuring that they complete the journal.