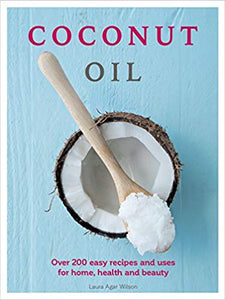 Coconut Oil by Laura Agar Wilson
Published by Apple Press, 2017
HB: 144pp
Coconut oil is a genuine super oil. It has been taking the world by storm with its impressive health benefits and its versatility, with a range of uses that includes everything from smoothies to face masks, and cleaning products to health remedies.
Coconut Oil Inside & Out explores the versatility of coconut oil with tips, advice and easy-to-follow instructions creating a fully comprehensive guide on today's most popular super oil. Beautifully illustrated with stunning photography, readers will be inspired by new ways to use their favorite oil.
Focusing on the use of coconut oil within four categories (Beauty, Health, Home, and Cooking), this comprehensive guide shows how coconut oil offers natural and affordable solutions to a number of life's problem - from sore throats to frizzy hair. Readers will be surprised with new and innovative ways to use coconut oil - from their bathrooms to their kitchens and throughout their home - with ideas such as using coconut oil as a stain remover or to remove chewing gum, alongside more traditional uses, such as a replacement for butter in cooking, a skin moisturiser and lip balm.
This unique book explores the uses of coconut oil that reach far beyond cookery, by offering a fully comprehensive guide to coconut oil and its benefits and uses. With the popularity of coconut oil growing, this book will appeal to existing devotees, new users and anyone interested in living a healthier life.