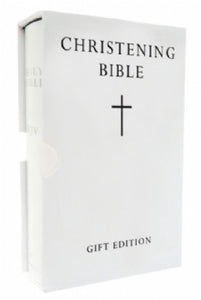 King James Christeing Bible
Published by Harper Collins, 2003
HB: 1104pp 
Looking for a meaningful Christening gift?
This delightful edition of the KJV Bible is a treasured keepsake of faith
You'll be reassured that this gift can play a vital part on the journey of faith
Made to be given at the beginning and to last the end, the Pocket  KJV Christening Bible is a sturdy and elegant Bible for someone who is taking the first steps on their journey of faith.
Presented in a handsome white binding, the Christening Bible is presented in 6-Point size text to help reduce the Bible's overall size.
And what better translation of the Bible to use than the KJV version? The translation that shaped Christianity when the Church in the UK was taking its first steps into becoming a nation-wide body. 
Known and loved for it's sublime poetry and timeless details, the KJV has never become outmoded, unappreciated, or dulled. But rather has shone as brightly as when it was first written.