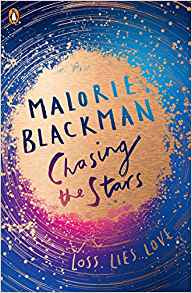 Chasing The Stars by Malorie Blackman
Published by Penguin, 2017
PB:496pp
Olivia and her twin brother, Aidan, are heading alone back to Earth following the virus that completely wiped out the rest of their crew, and their family, in its entirety.
Nathan's ship is heading in the opposite direction. But on the journey it is attacked. Only a few survive.
Their lives unexpectedly collide. Nathan and Olivia are instantly attracted to each other, deeply, head over heels.
But not everyone is pleased. Surrounded by rumours, deception, even murder, is it possible to live out a happy-ever-after...?
'Full of nail-biting adventure, interstellar conflict and then passion...keeps us guessing to the last'
Sunday Times
'Goes boldly where few YA titles have gone before...a combination of Star Trek, Ten Things I Hate About You and a murder mystery. What's not to like?'
Guardian