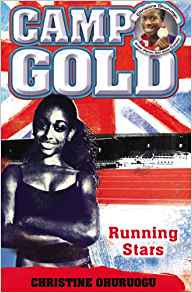 Camp Gold: Running Stars by Christine Ohuruogu
Published by Tamarind, 2016
PB: 272pp
Maxine is crazy about sports! She's thrilled to be going to Camp Gold, an elite sports summer camp. She's nervous too - will she be good enough? 

At the camp she meets good friends, cute boys and, best of all, she discovers her hidden talent - running. 

Soon she's training for the Nationals, which will be watched by Olympic champions. It's tough but it'll be worth it if she wins. Then the pranks start and her things go missing. . . Someone is out to sabotage her chance of winning. Can she stop them before it's too late?