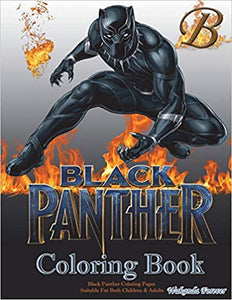 Black Panther Coloring Book
Published by Create Space Independent Publishing Platform, 2018
PB:52pp
Relax by coloring your own Black Panther, The City of Wakanda & so much more. The Best Gift for anyone in 2018! Children & Adults alike...WAKANDA Forever! 

Featured Pictures to color:
Black Panther.
The King of Wakanda (Mask).
The City of Wakanda.
The Wakandian Woman.
And so much more.
Specifications:
All 50 pages are yours to Enjoy.
Paper Size - 8.5x11 wide standard.
21 Pictures on separate pages to color
8 color test pages- 4 at the beginning and 4 at the end.
Glossy water-proof back cover
All pictures laid out on separate clean white sheets.
Happy Coloring - Wakanda Forever!