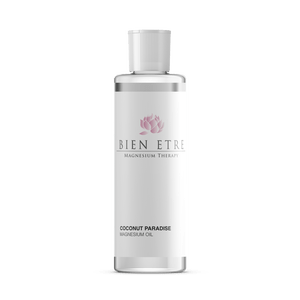 Bien Etre Magnesium Body Oil, 150ml
Boost your magnesium with our Bien Etre mineral oil that has many therapeutic benefits; ie relaxation, skin health and skeletal strength. Use before bed to improve quality of sleep, can be applied day and night will resist fatigue for longer and will better repair itself.
Dermatologically tested Bien Etre Magnesium Oil has been specially formulated to Boost your magnesium level through your bloodstream while remaining gentle on the most sensitive of skin.
The formulation contains 100% natural ingredients, avoid broken skin & oral ingestion Pure transdermal mineral spray, specially formulated to be gentle on sensitive skin
Dermatologically tested
Faster mineral absorption than tablets
Promotes relaxation and wellbeing
Relives muscle tension
Aids skeletal strength and skin health
Suitable for children