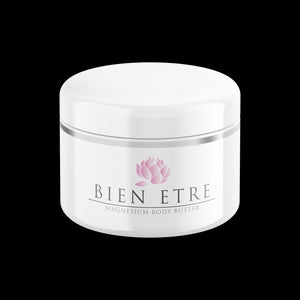 Bien Etre Magnesium Body Buter, 150ml
This deeply rich, intensively moisturising body butter is a perfect balance of luxury skin care & health promoting ingredients. Bien Etre Magnesium Body Butter contains a nourishing blend of pure Magnesium Chloride, Shea Butter, Cocoa Butter, Coconut Oil & Vitamin E to create the best skin care experience.
Designed to help Boost Magnesium, improve skin elasticity,  and promote overall skin health whilst leaving your body indulgently moisturised.
Bien Etre Magnesium Body Butter has the highest Magnesium Chloride per 150 ml giving you the best Magnesium Body Butter on the Market.
Dermatologically Tested and suitable for children & users with sensitive skin.
Ingredients:  Aqua (Water), Butyrospermum parkii (Shea) butter, Magnesium chloride, Cetyl alcohol, Cocos nucifera (coconut) oil, Theobroma cacao (cocoa) seed butter, Steareth-2, Steareth-21, Ethylhexylglycerin, Glyceryl caprylate Parfum, Acacia senegal gum, Xanthan gum, Tocopheryl acetate, Benzyl salicylate, Coumarin, Benyzl alcohol, Alpha-isomethyl ionoe, Limonene