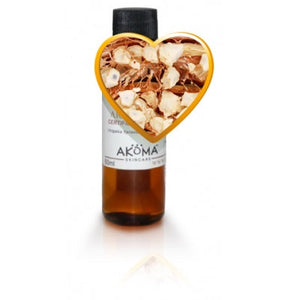 Akoma Baobab Oil 30 ml
BOTANICAL NAME
Adansonia digitata
EXTRACTION METHOD
Cold pressed
SUGGESTED USE
Cometic use only
BENEFITS
Made from the seeds of the baobab fruit. Baobab oil is rich in essential fatty acids it's great for use on skin to maintain healthly skin. It is clear, golden yellow oil that has a slight nutty odour.
Baobab oil is high in vitamin C and D. It has Omega 3, Omega 6 and Omega 9 fatty acids. The oil has strong moisturising
properties and is reputed to help skin elasticity. It is a very oxidatively stable oil. This stability derives from the presence of
natural antioxidants in the oil, as the composition of the oil (high in unsaturated fatty acids) would normally lead to susceptibility to oxidation.
Common uses:  Body creams, lotions, bath oils, massage products and cosmetics.
PRECAUTIONS
None known