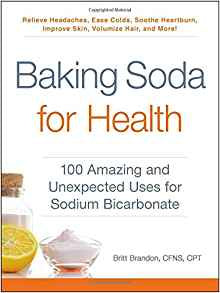 Baking Soda For Health by Britt Brandon
Published by Adams Media, 2018
PB: 128pp
Baking soda has been a kitchen staple for generations, but its uses extend far beyond cookie recipes and as refrigerator deodorizers. With its adsorptive and alkaline properties, baking soda is the perfect natural remedy for numerous health and beauty needs. Recent medical studies continue to reveal how baking soda contributes to good health by combatting chronic diseases, including cancer and kidney disease. It also provides all-natural relief for common ailments like the flu, coughs, sore throats, urinary tract infections, muscle pain and fatigue, stomach pain, and heartburn. Plus, baking soda can treat skin irritations, bug bites, and sunburn and naturally prevent body odor.

Similar to apple cider vinegar, baking soda is an affordable, all-natural, non-toxic cure-all for body and home. Its all-natural beauty uses are renowned and widely celebrated and can whiten teeth, brighten and exfoliate skin, reduce acne, cleanse hair, treat split ends, soften feet, remove stains from fingernails, and more.

With Baking Soda for Health, you will discover all the benefits this all-natural powder can bring—without dangerous chemicals or costly procedures.