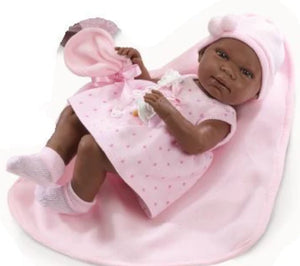 Baby Semone doll
Every child deserves to see themselves in the toys they play with from an early age.
Her body is smooth to touch and she is durable.
She is a hard bodied doll
She carries a dummy.
Her eyes are hard brown with carefully crafted eyelashes and glossy lips. 

You can dress and undress her.

You can put her in the bath.

She wears a pink soft, knitted dress with a matching hat, socks, and a soft cuddly blanket.
Size 38cm.
Suitable for children aged 3 and over.
Made in Spain.