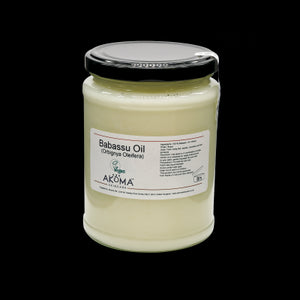 Akoma Babassu Oil, 100ml
BOTANICAL NAME
Orbignya Oleifera
EXTRACTION METHOD
Cold pressed
SUGGESTED USE
Cosmetic use only
BENEFITS
This soothing all-natural oil that works with all skin types, has a cooling sensation that tells you its going to work to heal and protect. It is quickly absorbed in the skin without leaving a greasy, uncomfortable feeling behind. And its great for removing makeup too.
Feel assured that no matter how harsh the weather, this life giving oil will protect your skin and keep from irritation. 

Great for those of you making your own spa products.  Babassu Oil can be a substitute for coconut oil in number of different applications. 
Common uses: face care treatments, hair treatments, bath products, make up remover, pre-shampoo conditioners, hot oil treatment
PRECAUTION 
None known