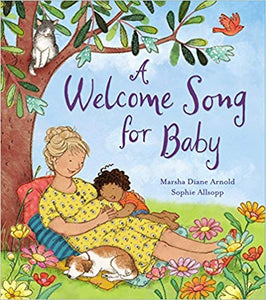 A Welcome Song For Baby by Marsha Diane Arnold
Published by Tamarind Books, 2016
PB, 32pp
Mummy's tummy is growing round -- the new baby's coming. What will I do, I wonder, to welcome the new baby?

As the seasons pass, Emma makes her own song from the sounds she hears, all to share with her new little brother when he finally arrives. This sweet, lyrical story is a celebration of sounds and seasons, nature and family. 

A beautiful, reassuring book, perfect for any child preparing for a new little sister or brother.