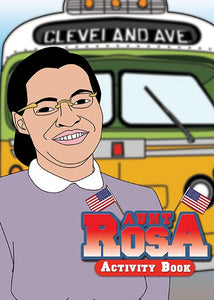 Aunt Rosa Activity Book by Andrew Lindo
Published by Black History Activity Books, 2017
PB, 30pp
The Black History Activity Books are designed to educate children on role models and figures whilst stimulating their minds with puzzles and activities.
Have fun and learn whilst getting to know more about the greatest figures in black history.
Aunty Rosa was a civil rights activist who helped create reform on the U.S. law. She was known for not giving up her seat on the bus as a statement against segregation.