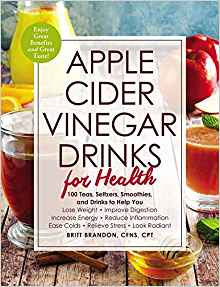 Apple Cider Vinegar Drinks for Health by Britt Brandon
Published by Simon and Schuster, 2018
PB:160pp
Enjoy the many benefits of apple cider vinegar—including weight loss, increased energy, glowing skin, better digestion, and improved immune system function—with these 100 delicious drink recipes.

Apple cider vinegar is one of the most popular home remedies—for good reason. This all-natural liquid can help with everything from cholesterol to weight loss to varicose veins while also offering numerous natural beauty solutions to promote healthy skin, hair, and nails.

Utilizing the numerous benefits of apple cider vinegar has never been easier, thanks to Apple Cider Vinegar Drinks for Health. From satisfying smoothies, to soothing hot drinks, to refreshing tonics, these one hundred recipes are a delightful way to add variety to your daily health routine and gain benefits including better digestion, increased energy, and reduced inflammation. Learn how to receive the maximum health benefits including the best time to drink apple cider vinegar and the optimal amount needed for effective results. Each chapter offers drink recipes designed to provide a specific health benefit on everything from detoxification, to cold and sinus relief, to anti-aging, and much more.