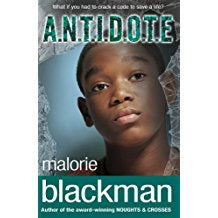 Antidote by Malorie Blackman
Published by Corgi Childrens, 2004
PB: 240pp
It's just your average Friday night. Then the police show up. 

Your mum's been caught on CCTV, breaking into a giant chemical company. They say she's working undercover for A.N.T.I.D.O.T.E, a group against animal testing - but how is that possible? She's not a spy - is she? Now she's on the run - and only you can uncover the truth. And you've got to crack a code to do it.

A gripping story from the bestselling author of Noughts and Crosses, Malorie Blackman.