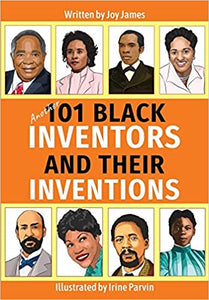 Another 101 Black Inventors and their Inventions by Joy James
Published by: Joy D'alwis James, 2022
PB: 226pp
Following on from 101 Black Inventors and their Inventions, come and meet another 101 of the world's greatest Black inventors ranging from superb scientists to incredible innovators to exciting entrepreneurs who have changed the face of technology and design! Another 101 Black Inventors and Their Inventions introduces you to more groundbreaking historical and modern-day Black inventors.
This beautifully illustrated book will take you on a journey to discover the lives of these inspirational inventors and how they came to impact the world with their unique ideas. From Henry Thomas Sampson's rocket fuels that powered and launched satellites to Gladys Mae Brown West whose work led to the development of the Global Positioning System (GPS), read and be amazed at just how much these real-life superheroes achieved in the face of adversity and, at times, discrimination paving the way for future generations.
Delve into Another 101 Black Inventors and Their Inventions and have a think about what inventions you might like to invent!