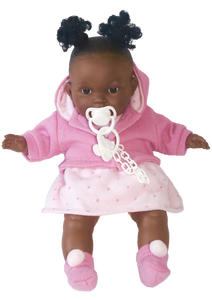 Amelia Talking/Crying Doll
Amelia doll is a crying talking doll with her own dummy.
Her voice box is activated when her dummy is removed.
She calls for "Mamma and Papa" when she cries.
Replace the dummy and she will stop crying.
She is a soft-bodied doll that is perfect for cuddling.
Amelia loves pink.  Her beautiful pink two-piece outfit comprises of a dress with matching shorts, pink knitted hooded jacket and booties. She has two ponytails at the top of her head adorned with pink hair ties.
Size 38cm
For age 3 years and over