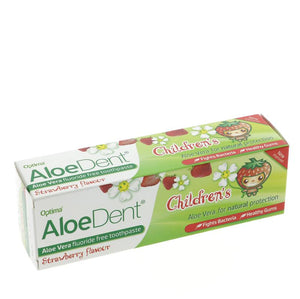 Aloe Dent Children's Strawberry Toothpaste - 50ml
Imagine--- no more nagging your children to brush their teeth! AloeDent Children's Toothpaste comes in a delicious new strawberry flavour just for children. It's also now available in a handy 50ml size, perfect for smaller hands.
Ingredients:
Ingredients include soothing aloe vera; co-enzyme for healthy gums; green tea extract and tea tree oil to help fight bacteria; silica for natural whitening; and a new yummy strawberry flavour.