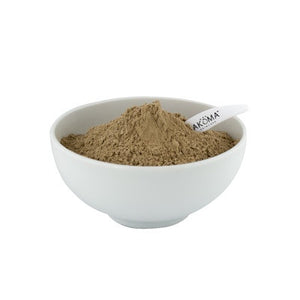 Akoma Rhassoul Clay
This ancient, mineral-rich clay, was formed under the Atlas Mountains in Morocco by a process of weathering, volcanic and geothermal activity that worked tiny fragments of gypsum into the clay. Deposits formed under what were once Jurassic lakes and seams of the clay are located between layers of crystallized gypsum.
Rhassoul has been used by North African women for many hundreds of years to cleanse and care for their hair and skin. The clay has an exceptional negative charge, giving it an ability to absorb impurities and toxic microbes in the skin (that are positively charged). Once the clay is washed from the skin, the absorbed toxins, now embedded in the clay, are also washed away. As well as its ability to purify and refresh the skin, the minerals within rhassoul – silica, iron, magnesium, potassium, sodium, lithium, and trace elements – contribute to skin health. Silica plays a role in keeping collagen healthy (which gives skin its elasticity) and strengthens hair and nails. Magnesium plays an important role in preventing DNA damage, while potassium keeps the skin cells hydrated and moisturized.

Rhassoul is considered superior to other clays and today is used in spas throughout the world, being especially popular in Turkish baths' therapies. It is used for face masks and body poultices (similar to a body wrap) and applied with a glove, or "kessa". These treatments rejuvenate and soften the skin by removing dead cells, and tighten pores.
As well as being a general skin cleanser that is suitable for all skin types (including dry and sensitive skin), the clay's anti-inflammatory and anti-microbial properties and ability to regulate sebum secretion make it an excellent anti-acne treatment.

For hair washing, rhassoul can be used in place of shampoo. The clay helps clear and prevent dandruff, absorbs excess oil and nurtures the scalp and hair follicles.
• Moisturizes and smooths dry and flaky skin
• Improves skin elasticity and firmness
• Absorbs excess oil/sebum
• Improves skin texture and brightens tone through removal of dead cells
• Improves circulation
• Fades scars
• Cleanses and closes open pores
• Cleanses scalp and leaves hair soft and silky
Common uses:   This pure product is excellent for use in: facial and body scrubs (exfoliation), shampoo-conditioner, scalp cleanser, soap/ shower gel, face masks and body wraps.

Rhassoul is ideal for those seeking a natural way to cleanse without harming the body's micro flora (as harsher/chemical products often do), with the added advantages of detoxifying the skin and nourishing it with essential minerals.
Preparation:
Using a non-metallic bowl and spoon, mix the clay powder with water and leave for about 10 minutes. Add more water or powder until the desired consistency is achieved
PRECAUTIONS
None known