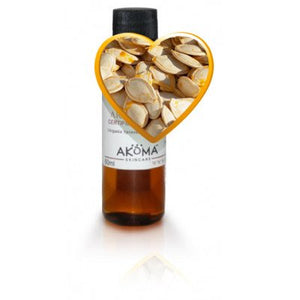 Pumpkin Seed Oil Organic, 60ml
BOTANICAL / INCI  NAME
Cucurbita pepo
EXTRACTION  METHOD
Cold pressed

SUGGESTED USE
Therapeutic; beauty and hair products
BENEFITS
This oil, cold pressed from the seed, is thick in texture and dark green in colour.   As with all seed/nut oils, it is rich in essential fatty acids (omega 3 and omega 6) and antioxidants.  
This oil is increasingly valued by aromatherapists for its particularly nourishing properties which include high protein, enzymes, a wide complement of vitamins (A, B, C, D and E) trace elements zinc, calcium, copper, manganese and magnesium and 60% polyunsaturated fats.  In particular, pumpkin seeds and its oil are an important source of zinc, which is thought to lessen the effects of allergies. 
The oil has very good emollient properties and is used in products to help moisturize, restore and revitalise skin tissue at the cellular level.  Its vitamin E content will help neutralize damaging free radicals, reduce fine lines, firm the skin and protect from UV damage.  Although the oil is rich and thick, it absorbs easily into the skin.  As the essential fatty acids regulate the skin's own oil, it is beneficial for both eczema and acne/oil skin conditions.
The ingredients within pumpkin oil are attributed with: relieving menopausal symptoms; aiding the healing of skin wounds, sores and inflammation; supporting: the urinary tract, prostate health and the reproductive system.
Common uses: Lotions, soaps, creams, bath oils, hair-care, skincare, lip-balms and nail products; massage blends; suntan lotions; a useful ingredient in home-made cosmetics.  
PRECAUTIONS
None kown