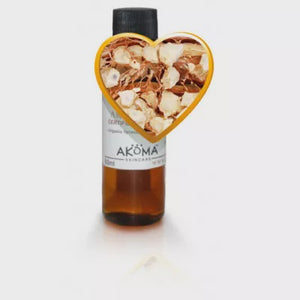 Akoma Organic Baobab Oil 
BOTANICAL NAME
Adansonia digitata
EXTRACTION METHOD
Cold pressed
SUGGESTED USE
Therapeutic; beauty and hair  products
BENEFITS
The Baobab tree is able to live for thousands of years and is renowned in Africa, its country of origin, for its beneficial properties.  Extracted from the seeds of the baobab fruit, the oil has a clear, golden yellow colour, a slightly nutty odour and is abundant in essential fatty acids.  Although its has a rich consistency, the oil is easily absorbed, leaving no greasy or oily residue.
Baobab oil is high in vitamins A, C, D and E.  Vitamin C is vital in the formation of collagen – the tissue which gives skin its firmness – as well as having the powerful antioxidant properties which neutralize free radicals.  Only a small amount of dietary vitamin C reaches the skin and studies have shown that applying vitamin C topically is twenty times more effective for the skin than when taken orally. 
The vitamins within many of the carrier oils contain a myriad of skin-building ingredients and baobab oil is no exception: vitamin A stimulates and increases the deposition of collagen and supports elastin (which gives skin its elasticity); vitamin D promotes the skin's barrier against foreign microbes; and vitamin E, like C, contains powerful antioxidants.  The antioxidant properties of the vitamins also protect the oil itself from oxidizing and breaking down, thereby increasing its stability and shelf life.  Without these, the composition of the oil, being high in essential fatty acids, would make it susceptible to oxidation. 
What is the importance of the fatty acids known as Omega 3, Omega 6 and Omega 9 contained in the baobab oil?  They are called 'essential fatty acids' because they are vital to health, yet the body is unable to manufacture them.  Just two of their specific roles are: cell regeneration, aiding vitamin absorption.  Increasing omega oils into the body, both orally and topically, is particularly therapeutic for treating psoriasis and eczema.
Common uses: Body creams, lotions, balms and butters, bath oils, skin cleanser, massage products and cosmetics.
PRECAUTIONS
None known
NOTE:
30ml with pipette