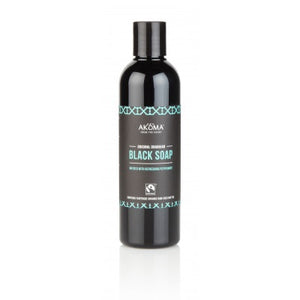 Akoma Liquid Black Soap 250g 
Renowned for its health benefits Black Soap is one of the healthiest soaps for the skin due to the purity and simplicity of the ingredients that are literally loaded with essential vitamins, minerals and antioxidants. 
This miracle soap cleanses while moisturizing the skin with its nourishing balance of ingredients. Traditionally made, the soap contains raw Shea Butter, organic virgin coconut oil and cocoa pods. 
Its dark color is due to the natural ingredients it is made from and this product is free from dyes, charcoal, artificial perfumes, animal products and animal derivates and it is therefore, also suitable for vegans.