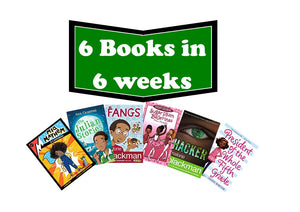 6 Books in 6 Weeks: Summer Reading Challenge Registration Fee
Register here for your 5-12-year-old to enter our special summer reading challenge. Follow the simple steps below:
1. Click to add the registration fee per child to your basket. Once you have paid we will send you a special discount code to claim your 15% off the 6 books of your choice from our website or in-store.
2. Each week your child reads a book and completes the online book review form for the book s/he has read. 
3. At the end of the six weeks they complete the sentence starter:  I love reading because... (Just one sentence please!)
4. They then simply wait to hear whether they have won our grand prize of 6 additional books COMPLETELY FREE!*
* Two runners-up will receive a free book each and all participants who finish the challenge will receive a MyBookbasket certificate. 
Winners will be notified by the beginning of October 2021. 
Please note the last day for registration is the 9th August.