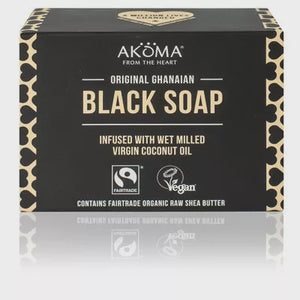 Akoma Black Soap 145g (Ghanaian)
Akoma Black Soap received both Fairtrade certification (from the Fairtrade Foundation) and organic status (from the Soil Association) in 2009. Ghanaians have been using black soap for centuries for general bathing and hair washing. Black soap is renowned for its natural healing properties and is used in the treatment of various skin conditions.
The benefits of Akoma Fairtrade Organic Black Soap
Renowned for its health benefits, Akoma Fairtrade Organic Black Soap is one of the healthiest soaps for the skin due to the purity and simplicity of the ingredients which are loaded with essential vitamins, minerals and antioxidants.  The soap cleanses while moisturising the skin with its nourishing balance of ingredients.
The soap has a mild, fresh, natural scent and a wonderful creamy lather of fine bubbles which leaves skin beautifully clean and refreshed.
What does Akoma Fairtrade Organic Black Soap contain?
Traditionally made, the soap contains raw shea butter, organic virgin coconut oil and cocoa pods.  Its colour is due to the natural ingredients it is made from and our product is free from dyes, charcoal, artificial perfumes, animal products and animal derivates and it is therefore, also suitable for vegans.
Who should use  Fairtrade Organic Black Soap?
Everyone can use Akoma Fairtrade Organic Black Soap. It is especially designed to be sensitive to skin and provide moisturising action without drying out the skin. It is a great soap for all ages from 0 to 100 years old!
If you struggle to find a soap that is kind to your sensitive skin, then try Akoma Fairtrade Organic Black Soap and look no further!
Ingredients: cocos nucifera(Coconut Oil), **butyrospermum parkii,(Raw Shea butter Organic ), Cocoa Pods ,Aqua(Water)
*Certfied organic ingredients **Contains 57% Certified fairtrade organic raw shea butter