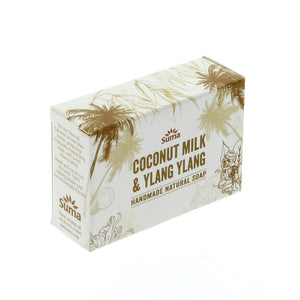 Suma Coconut & Ylang Ylang Soap
Pure white bar with oatmeal pieces A richly lathering exotically fragrant soap made with coconut milk to moisturise, and added oatmeal to calm irritated skin. Perfectly balanced with ylang ylang essential oil for an all over pamper sensation. 

Suma soaps have been carefully hand crafted using a blend of olive oil, coconut oil, and shea butter, using an age-old process which helps retain all of the soap's naturally released glycerine. It's a method which helps produce a wonderfully natural moisturising soap, with a rich creamy lather to help hydrate, sooth, nourish and pamper. Each bar is individually boxed in plastic-free packaging, making them ideal as a little gift.
This product is Vegan.